What to wear fashionable women's jacket? Photo
Back in fashion jackets a variety of styles and colors. How to wear fashionable jacket and her combine?
Any fashionable jacket goes well with jeans. But thou shalt not always walk in jeans? Therefore,, first, than buying a jacket, decided with his style. What will your jacket style? Romantic, Biker, daily?
Biker jackets with rivets and locks – at the height of fashion! This jacket is well combined with fashionable grunge style:





Fashion jackets 1-3 from the collection Balmain
However, This year's fashionable jacket with studs can be worn with anything: evening dress, Shiny Pants, short skirt.






Fashion jackets 4-6 from Burberry Prorsum collection
Jacket-classic windbreaker jacket and fashionable to wear with easy short dress:





Fashion jackets 7-9 from the collection of Christian Dior
Simple jacket jacket wear with the fashionable narrow trousers:






Fashion jackets 10-11. On the photo: two jackets Hermes, Christian Siriano
Skirt, the spacious trousers or podpojasannoe dress will look good with a short jacket to belt, to better highlight the thin waist.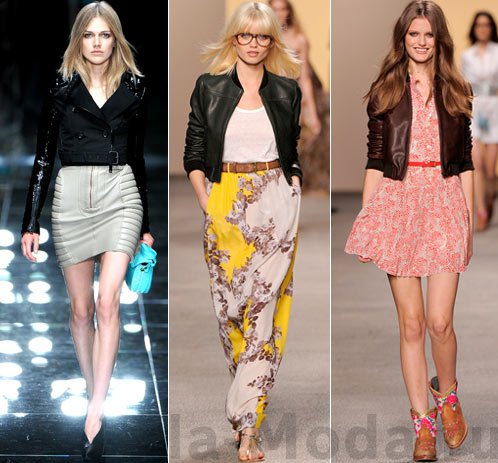 Fashion jackets 12-14 Burberry Prorsum collection, Paul & Joe
Jacket with belt at the hips with a magnificent match skirt or trousers, to make the x-shaped silhouette:






Fashion jackets. On the photo: (15) Gucci, (16, 17) John Galliano
Uni jacket simple without clutter fashionable wear with colourful dress and high-heeled shoes, – looks very romantic and seductive:






Fashionable look with a dress
By choosing trendy jacket, pay attention to the features of shape and length jackets. Note, NCDS jackets focuses on this site your shape.
What are the same fashion jackets the best?