Fashion jewellery
This season many people ask the question, What jewelry to wear. Really, the main emphasis is on face, to clothes select make-up, rather than accessories, as before. What really abandon decorations? No no!
Black outfit or classic little black dress decorate bracelets, stylish clock and dark glasses. Maintaining strict elegant style:





Fashion jewellery: (1) sunglasses Versace, (2) Bracelet Lanvin, (3) Silver Bracelets Bottega Veneta, (4) Giorgio Armani
To dekol'tirovannomu dress, dress with open shoulders, color dress select large necklaces, bracelets, large chains and beads:





Fashion jewellery: (5) Necklace in tone skirt Jason Wu, (6) off-the-shoulder dress and necklace of Oscar de la Renta, (7) Bottega Veneta necklace, (8) red dress and beads Costello Tagliapietra
Fashionable red dress are both with ornaments, and without them. Stylish belt fit to any dress and suit. To coat with short sleeves, it is appropriate to wear bracelets: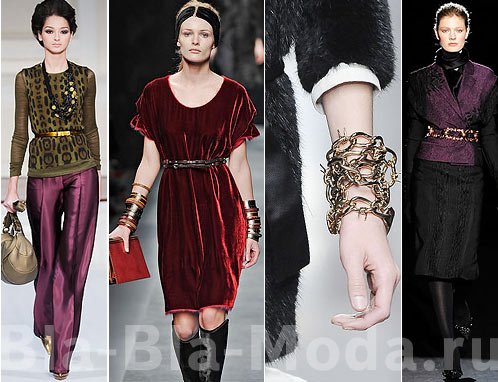 Fashion jewellery: (9) Golden belt Oscar de la Renta, (10) bracelets and belt Fendi, (11) bracelet to Burberry Prorsum coat, (12) shiny belt Carolina Herrera
Although Hollywood movies have taught us to wear holiday necklaces, wearing evening dress, try to leave the neck open. The Japanese consider, that an open neck looks more tempting, than with ornaments and, to enhance the effect, recommend wearing raised hairstyles.
Fashion trend: wearing brilliant evening dress without ornaments on a neck. Looks like luxuriously and stylishly, but all the attention is on face, lips, eyes. Something there!
Hit the winter season-scarves, scarves:





Trendy shawls and scarves: (13) Ralph Lauren, (14) Marc Jacobs, (15) Kenzo, (16) Isabel Marant
Even warm scarf nowadays are not only for warmth, but as decoration. the main thing, Learn to do it tie a scarf.