White is a fashion hit of the year! Photo
White has long been a leader in fashion. Chic White clothes was popular during winter, and the warmer will be on the street, the more in your wardrobe, you should see things white. If you have no white stuff, start with a generic little white dresses, who will rescue you, when absolutely nothing to wear. After all, dress in white from head to toe this year is considered particularly chic. Stella McCartney offers with white clothes to wear a white bag and even white frame glasses.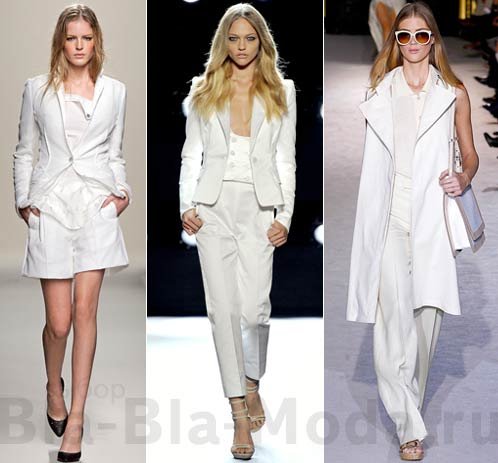 White clothes from the collections (1) Bottega Veneta, (2) Gianfranco Ferre, (3) Stella McCartney
Thanks to its white colour, every woman looks younger and fresher. Perhaps, for this reason, the white clothes – a must have for those, 40 … by the way, contrary to stereotypes, White clothes visually makes easier full girls, – you only have to choose the correct clothes for full figure.





White color in fashion! Модные коллекции: (4) Chado Ralph Rucci, (5) Dolce & Gabbana, (6) Michael Kors





Fashionable clothes white from the collections (7) Celine, (8) Cynthia Steffe, (9) Ralph Lauren
White easily combine any other colors. Razbav' white look colorful accessories or clothing of bright colors, — get another fashion trend.





White clothes of fashion collections (10) Tommy Hilfiger, (11) Michael Kors, (12) Akris
Popular not only white clothes, but accessories: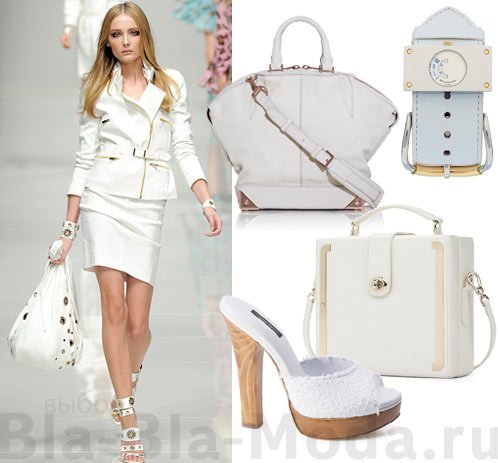 Trendy white accessories: trendy look Blumarine, Alexander Wang bag, Watch Balenciaga, SABO Dolce & Gabbana, Emporio Armani bag
And even white color many is synonymous with relaxation. Perhaps, why so popular white dresses. Can arrange a vacation on their own? Sea, The sun… Or at least arrange bedroom white?