Socks and stockings is fashionable!
New in fashion and very relevant is the socks, stockings and tights! Dont go to express their "Fu" Avenue and socks. First look, how and what they are.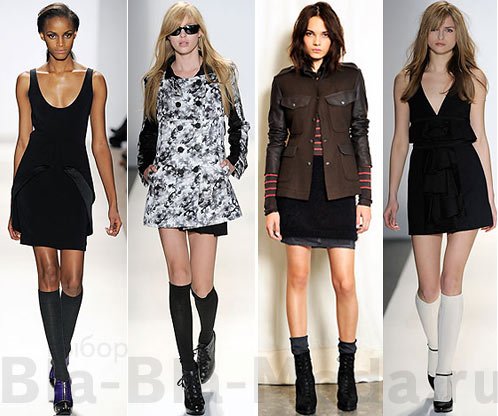 Socks and stockings: Brian Reyes, Cynthia Steffe, Rag & Bone, Cynthia Steffe
The most interesting, -socks and knee-highs can be combined with any of the different styles of footwear and clothing. This small detail will help complete the image of the naughty girls or inaccessible luxury Lady.






Socks and stockings: Salvatore Ferragamo, Luisa Beccaria, Cynthia Steffe, Dolce & Gabbana
Don't miss the opportunity to once again demonstrate beautiful legs. The height of golf choose in accordance with the characteristics of the shape. Remember, that upper edge Golf focuses on this site. for example, If you have beautiful knees, Choose a knee length, If the beautiful ROE is the length of the calf level. Above knee length socks and stockings are also relevant, wear them with mini skirts.






Socks and stockings. How and what to wear. Street fashion
Pay attention, that knee picked under the color of clothes. Seductive look Golfs and mini skirt of the same color.